Good morning Kittens, Its time for another week of Non Scale Victories!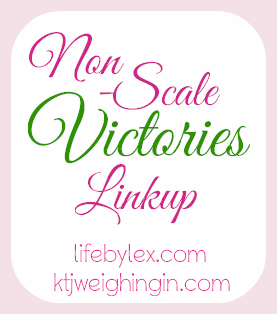 I'm finding it harder each week to write a non-scale victory that I personally think is worth writing about. I feel like my victories are not worth a whole post or not big enough to be called a victory.
Regardless, My victory this week is the comments I'm starting to get from people. I told you earlier this week in my Gymspiration post, that a fellow workout buddy told me I was her motivation for coming to the gym earlier and working out harder. That was awesome.
I had a coworker come back from surgery on Monday after not seeing me for a while, told me that I was looking much better and that my belly looked much flatter (Hello thats a mega compliment. My belly is my worst area!). Then literally 2 minutes later another coworker came to say hello to the first coworker and asked if I was losing weight! YES.
Yesterday when I was on my way out the door in my gym clothes-- yet another coworker stopped me and said, "hey I didn't want to embarrass you in front of your friends but you look great! Have you been losing weight!?"
Seriously? 4 compliments in less than a week?
Not to mention the serious love I've been getting from my twitter and instagram followers! Love you all.
I think the past few weeks I've been struggling with dedication. After I had the 8 pound gain week, it was hard to get back on track and stick with it. Although I think maybe that was exactly what my body needed. I feel like those fat girl moments when your in the kitchen eating peanutbutter off a spoon sometimes need to happen. Not all the time. Not every day or even every week. Occasionally yes. I had one of those this weekend and then days later people were telling me I look awesome. So motivating. Needless to say, I wont be having another Fat girl moment for a little while. I still have 1.2 pounds to lose before my dietbet is over!