Well, Try two of the Non-Scale Victory!! I wrote the first one last night before I went to bed, but my horrible blogger app deleted that shit. So now I get to try again.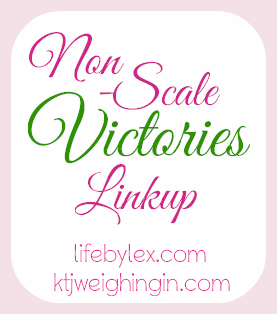 Alright, So my Non-Scale victory this week is literally non scale. It has nothing to do with losing weight but more to do with doing the right thing. Good Karma. Etc. You get the point.
A few friends I knew from high school Angela and Ross recently got married and had a baby. Enter Baby Cameron. At barely a year old, Cameron was taken to the ER for severe dehydration, respiratory distress and sever fatigue. A few days later they came to the conclusion that the cause of all his troubles was due to a tumor on his spine. He was taken in for surgery a few days later whey they removed his tumor. The cancer screening came back-- it is Stage 4.
He recently went under his second round of strong chemo to try to get rid of any remaining cancer cells. His close family and friends have created a website dedicated to the cutie called
www.SupportBabyCameron.com
. There you can purchase for $6 a band that says "Baby Cameron" and all the money goes directly to his cancer treatments.
I ordered mine last week after hearing his sad story. It finally came in the mail yesterday.
I feel like that was my Non-Scale Victory this week. Although it has NOTHING to do with losing weight-- it has everything to do with supporting a family in need and showing that he has support out there.
My mission in today's post isn't to try to sucker you into buying a bracelet for baby Cameron. My hope is that if you can spare the $6 to please go donate to them. If that's not attainable at the moment I hope that you would say some prayers for Cameron, Angela, Ross and their family.
I have nearly 100 followers-- if 50 of you go and support him that's nearly $250 +/- with shipping that goes RIGHT to his treatments.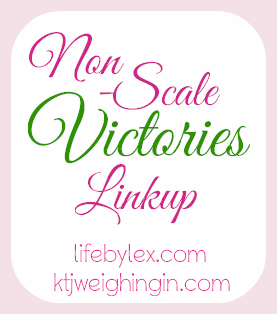 Want to participate in the Non scale link up? Highlight the code in the box above. Right click and select copy. Head to your blog-- Select "HTML" when writing your post. Paste the code where you want it. Click "Compose" to return to the normal view to edit your post.
Non-Scale victories are those victories big and small that (as I see it) help you become a better person. Whether it be physically, mentally, or in weight loss.
So if you've got a Victory you'd like to share-- Link up!!