Its that time of the week again, time for another Non-Scale Victory!! Don't forget to check out the link in the side bar which will show all of my Non-scale Victory posts to date.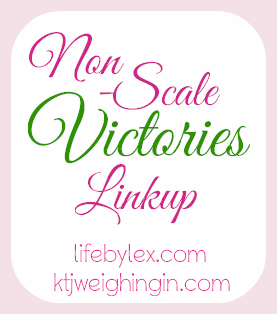 What is a Non-Scale Victory?
The point of think link up is to take the focus off the specific number that we see on the scale Monday mornings, and instead bring all the attention to the other victories we are seeing in our lives due to our weight loss, training, increased fittness--- basically anything you think is a victory in your eyes to better yourself.
My Non-Scale Victory:
In October/November I tried to start running. Literally 0-60. No activity to running. That shit doesn't work. I think I went running twice before I realized I wasn't going anywhere--and quick.
In January I started going to the gym more regularly doing the things I used to do. Even doing Zumba. At first, it was all hard. I hadn't really been in the gym for about 7 months! But I didn't give up.
Monday, when the weather in Pittsburgh was really nice, I decided to take the time and go running for as long as I could-- not look at my watch just run. So I ran. Forest gump style. "RUN LEXXXX RUNNN"
Okay, so maybe that was just in my head.
Anyway, I ran. I didn't look at my Garmin-- only at my Heart rate occasionally to tell myself it really wasn't as hard as I thought.
Got back to my car--
2.20 Miles. WHERE THE HELL DID THAT COME FROM?!
Yeah I'm still baffled too. I couldn't believe I had actually ran that far-- with really no problem. I was literally on cloud nine.
I know some of my readers out there are avid runners who run 10 miles a day. Thatssss just not gonna happen for me.
As I was driving home I started to realized that the reason I was able to run this distance was because I've been working hard at Zumba and walking. As silly as it sounds. I realized that I am getting healthier-- even if I'm not losing on my scale, I'm at least getting physically stronger.
When in Canada I actually had the exact opposite thought-- "I'm actually getting more unhealthy. Skiing is so hard!!"
-- No you dumb ass. Skiing is hard in Canada because you are doing harder and longer trails. And because you havn't been skiing for two years because of crappy weather.
I'm really glad that I went running the other day and that I made this realization. Being able to do SO Much more than I had a few months ago just blows my mind and makes me think of all the possibilities. It really does motivate me to do more!
And if that wasn't motivating enough check out my burn that day!
2.20 Miles Running and 1 Hour Zumba
How to participate:
Write a post about your Non-Scale Victories for the week.
Visit as many posts as you can and offer encouragement and help celebrate everyone's NSVs
Linkup below :)